Hello and welcome to our Blogwarming Party!
We're having a bloggy open house all week to show off our newly renovated blog.
For more info on everything we're doing this week, check our our party invitation
here
.
+ + + + +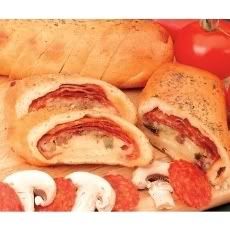 Today's party food is:
Stromboli
(shown here)
Stromboli is one of our all-time favorite party foods to make. It's super easy to make, you can vary the fillings, and everyone wants seconds.
Here are two more recipes that Frank posted on his own blog,
Deaf Chef at Large
:
Grab a plate and come along for the tour of our new place. Don't forget to sign our
guestbook
!
+ + + + +

Today we can't wait to show you stuff from our Home:
+ + + + +

Today's party game starts today and will continue all week long.
During our week-long Blogwarming party, we'll be posting a different party badge each day. After you post all seven badges to your blog or website, we'll invite you to share the URL where you have all seven posted.
Collect all seven badges
and you will be entered to win
a special prize!*

This is separate from today's door prize.
*For rules and complete details, click
here
.
+ + + + +
Today's door prize is the book "Roasting - Simple Recipes for Perfect Roasts"
a fruit and nut chocolate bar, and a set of 5 cow print bubble magnets.
(a $10 value)
I have several of these cookbooks. I love that they show you a full page picture for each recipe so you can decide what to make based on how good it looks. Since we roast a lot at home, I thought it would be fun to share a book on roasting. Some of these recipes can be modified for the grill if you use indirect heat and have the time to babysit the grill. On lazy summer days, that's not a bad idea... sitting outside with a few beers, babysitting the grill, reading a book, enjoying the day...
These magnets are so much fun. I attached some cow print fabric and coordinating "moo...moo...moo..." fabric to the underside of 5 glass bubbles, then attached a heavy duty magnet to the back. These will hold 5 pieces of paper or a couple photographs to your fridge. Since our front door is metal, I use these for outgoing mail or other things that need to go out so I don't forget them when I leave.

Don't forget to enter to win today's doorprize!
Here are four ways to enter:
+1 comment below to say hello
+1 follow our blog and comment*
+1 subscribe (with the little orange thingy
or by email) and comment
+1 post the URL to your Flickr album cover in another comment
(BTW, all comments here are "do follow")
Only comments from today's date (ending at 11:59pm PST) are eligible for this prize. Be sure to include a way for us to let you know if you're the winner. You don't need a blog to enter, but you'll need to have a mailing address in the US or Canada. If you have already won a prize during this party, you may continue to participate but you will not be eligible for other prizes from this week's party. Thanks for understanding.
+ + + + +

That's it!
Be sure to come back tomorrow for more blog party fun!
*Did you follow us when you got the party invitation? That's ok. We'll count that in today's giveaway. Just be sure to comment today and let us know.